High Quality Super Universal 12V Solar Battery OW-12-C400 Specification:
| | |
| --- | --- |
| Model | OW-12-C400 |
| Capacity | 400WH |
| Dimension | 260*164*42.5mm |
| Weight | 3kg |
Input :
13V~21V/40W~120W (By Solar Panel )
12V/8A(By 12V car battery --cigarette lighter )
19V/120W( By adapter)
Output:9V~12.6V/12A (Max:15A)
Nominal Output : 12V/8A or 24V/5A ,11.1V/12A ,and USB5V/2A
Recommended charge Temp:0-40°C
Discharge Temp: -20-60°C (Recommended: -10-50°C)
Storage Temp:-10-40°C (Recommended -5-35°C)
Power guage :LED indicator to show battery level.
Low power alarm &High charging voltage alarm:LED flashing and buzzing With power switch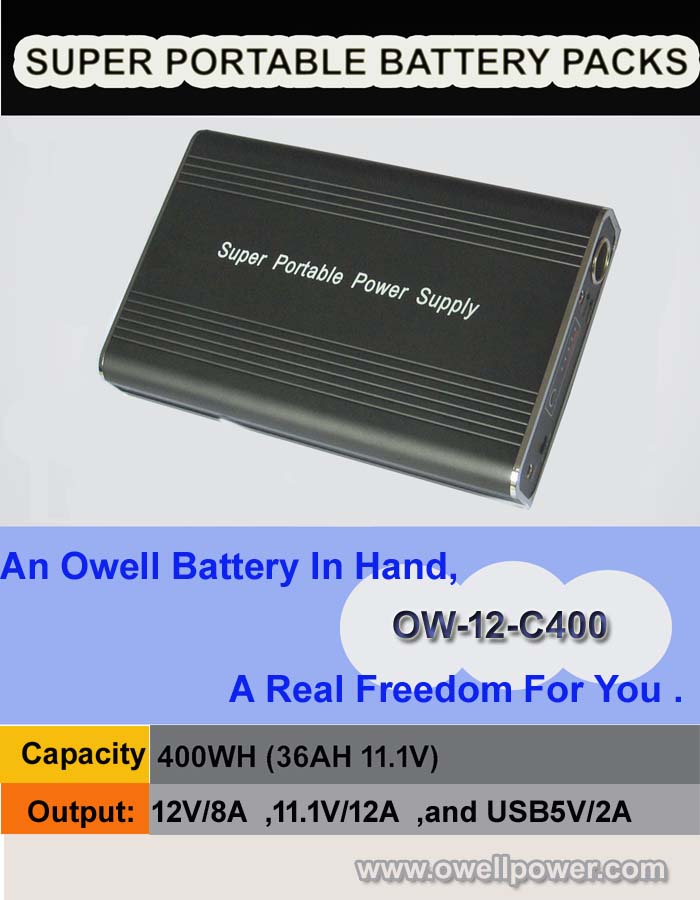 Solar Panel Information :
1. Solar panel Type : mono-crystalline silicon,
2. Max Wattage:50W
3. Operating Voltage :18V
4.Operating current:2.75A
5.Open Circuit Voltage :21.6V
6.Short Circuit Current :2.8A
7.Sunlight exchanged rate:16.8%
8.Optimal Operating Temp. 32-104F (0-40 C). Optimal Storage: 32°-86°F /(0°-30°C) ;
High Quality Super Universal 12V Solar Battery OW-12-C400 Features:
1. Two kinds of low electric quantity alarm pattern. LED indication alarm and sound alarm.
2. lithium polymer cells ,High capacity, little size, convenient to carry
3. Out of power can be placed at anytime and anywhere
4. Various circuit protection functions, to ensure the safety and stability of item, such as protection from overcharge, over discharge, overheat
5. used for most of 12V devices .
6.It can be recovered itself, when shot circuit.